2012: They Were Warned
Help: Blog
[X]

A blog (from "web blog") is a discussion or informational site consisting of discrete entries ("posts") typically displayed newest first. All Corrente posts are front-paged; there is no up-rate or down-rate process. Corrente posts are almost entirely community moderated. We encourage a clash of ideas, and do not encourage a clash of persons.

If you are the author of this post, see the Edit tab ad Help (and Advanced Help) for detailed documentation.
Submitted by

mike flugennock

on Wed, 11/03/2010 - 11:31am
(This one isn't a Blast From Yer Past as such, as it's only about a year old. It had been only a year since Barack Martin Luther Aquinas Gandhi Timberlake Obama The One came out on top in what the Democrats called The Most Important Election Since The Earth Cooled To A Temperature Conducive To Life. He hadn't been in office quite a year, but the dissatisfaction was already percolating; he'd bailed out a buttload of banks and Wall Street outfits, foreclosures were skyrocketing and so was unemployment, and people were starting to figure out that the super-duper important historically historic healthcare "reform" bill was a total piece of shit. So, gang, let's cast our brains back but a year...)
It's the end of the world as they know it...
but they feel fine!
Those of you who've followed my work for any length of time will remember my complaints about the early start of the Presidential "election" cycle (John Edwards announced on Christmas Week, 2006) in the form of the four-part "Jackass Slate for 2008".
So, here it is, at least a year before the "official" start of the 2012 Presidential campaign season, and here I am already doing a '12 Election cartoon. I don't know what else I can say for myself, other than that when the muse visits me, she absolutely refuses to quit pestering me until I've committed a creation to paper. It really was a "perfect storm" of events, recently: we had the epic FAIL of the Obama Administration in the areas of healthcare, the economy, and the war in Afghanistan; the Democrats stumbling in the recent elections in Virginia and elsewhere; the GOP hopefuls for '12 already jockeying for position; Obama's approval rating finally dropping to a level representative of normal objective reality; the ominous spectre of a sound butt-paddling for the Democrats in the 2010 off-year elections -- and a movie just out about the end of the world in 2012, which was pretty much the icing on the conceptual cake.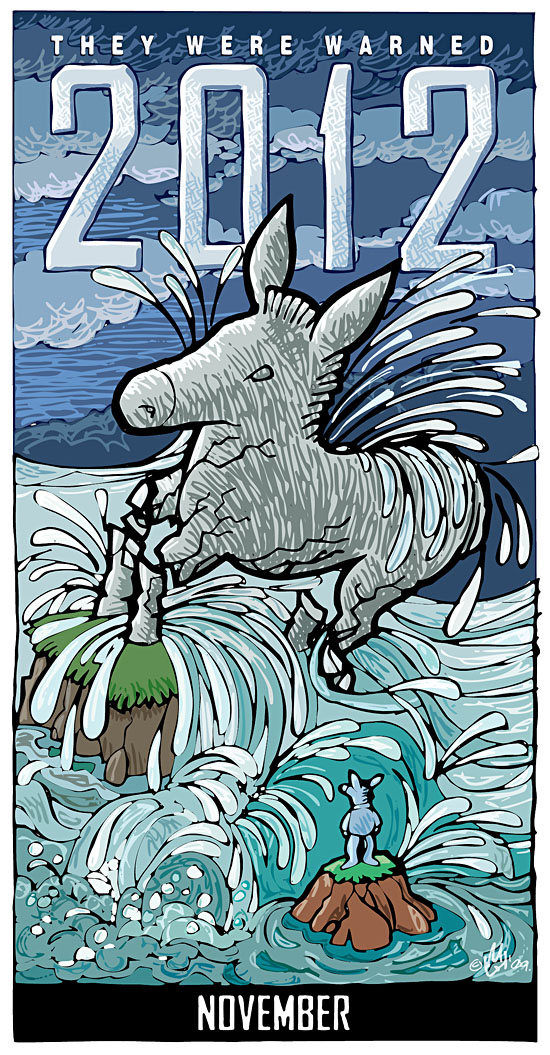 Now, I'm not into clairvoyance or prophecy or any of that woo-woo, but the events of the past year -- most notably the healthcare "reform" debacle -- had gotten me to thinking that at least in one respect, the Mayans may have been on to something...
Medium-res .jpg image, color, 1mb