Lily, A Hero For 'Mill' Dogs [Updated January 11, 2013]
Help: Blog
[X]

A blog (from "web blog") is a discussion or informational site consisting of discrete entries ("posts") typically displayed newest first. All Corrente posts are front-paged; there is no up-rate or down-rate process. Corrente posts are almost entirely community moderated. We encourage a clash of ideas, and do not encourage a clash of persons.

If you are the author of this post, see the Edit tab ad Help (and Advanced Help) for detailed documentation.
Submitted by

Alexa

on Tue, 01/08/2013 - 5:05pm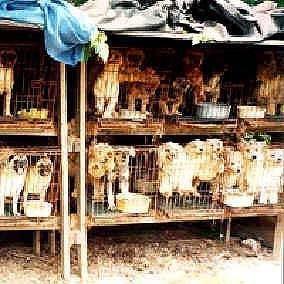 [Photo Credit: Puppy Mills, justblametv's Library, photobucket]
Lily
[Photo Credit: National Mill Dog Rescue Photostream, Flickr]
Slideshow: Lily, A Hero For Mill Dogs.mov
[Slideshow Credit: milldogrescue and ClayMyersVideo]
Lily, a Hero for Mill Dogs, ClayMyersVideo, YouTube
I am posting Lily's story in the hope that doing so may encourage many of you to consider getting your next dog from a rescue or shelter, rather than a pet store or commercial breeder.
This is Lily's story as told by a couple of uplifting images, a beautiful slideshow--set to music, and a video narrated by Theresa Strader [which does NOT show graphic photos of a puppy mill operation]. Ms. Strader bought Lily 'at auction' from the Reedsgate Kennels in Missouri, in February 2007.
This "purchase" led Ms. Strader to establish the National Mill Dog Rescue in Colorado Springs, Colorado. This dog rescue facility was founded in honor and in memory of Lily, a little Italian Greyhound.
Theresa and Rich Strader, and their children, gave Lily a safe and loving home for a little more than a year, before she finally succumbed to (facial) cancer.
When Ms Strader purchased Lily, she was already in deteriorating health, although she was still a relatively young dog. Her uterus had literally cankered from all the years of breeding. Lily was so emotionally scarred, that it took seven months before she would allow her new family to "hold her."
For Theresa Strader, Lily became "a symbol of hope, courage, forgiveness, and strength."
As Ms Strader herself so poignantly put it,
"Lily was a serious dog, stripped of her ability to be a typically silly Italian Greyhound because during her first seven years of life she had no opportunity to move or socialize with what came to be her favorite thing in life - people.

What she did find in herself in time though, was courage. When she found her courage, she let everyone know about it, climbing into the laps and arms of total strangers and sharing her very special love with everyone around her.

No one walked away from Lily the same person. Her tiny, disfigured little self moved grown men to tears, many times."
I am in agreement with Ms. Strader that it is not possible to walk away from Lily, or for that matter hear her story, and remain the same person.
I thank the Straders for "the gift of Lily."