Bernie Sanders' Followers Looking To Move On
Help: Blog
[X]

A blog (from "web blog") is a discussion or informational site consisting of discrete entries ("posts") typically displayed newest first. All Corrente posts are front-paged; there is no up-rate or down-rate process. Corrente posts are almost entirely community moderated. We encourage a clash of ideas, and do not encourage a clash of persons.

If you are the author of this post, see the Edit tab ad Help (and Advanced Help) for detailed documentation.
Submitted by

metamars

on Wed, 06/15/2016 - 9:38am
A comment at ShadowProof.com diary THE 'POLITICAL REVOLUTION' HAS OPPORTUNITY TO WIELD POWER—WITH OR WITHOUT SANDERS expressed things, well:
Karl Klept • 5 days ago
I guess we'd been warned. Bernie has capitulated to the establishment before (Obamacare) and he did say he would not make a 3rd party run. So his comment today after the Obama meeting about "working with Clinton" suggests that at a minimum he will try to push some points for her platform and in a worst case but sadly not unlikely scenario, Bernie will endorse and campaign for her. In either case, that is a pathetic interpretation of "the struggle continues".

Nevertheless, Bernie generated lot's of energy around liberal ideas specifically with youing people. This probably only could have happened with a Democratic party candidate. But if Bernie's work is done, and it appears to be given that the best case end game is some meaningless planks in the platform Hillary has no intention of adhering to - it's time to move on.

Hopefully this movement swings to Jill Stein, she seems to be the real deal and there is no establishment baggage this time. Go green!
While I personally retain a small hope of Bernie running 3rd party (specifically, Green Party, the only option that makes sense), it seems unlikely.
Whatever Plan B Bernie imagines for his enthusiasts, I similarly don't have great expectations. These past few days, I've been gathering Congressional candidate data for Voter's Revenge, and sort of abandoned the berniecrats mid-stream, whose data I obtained from berniecrats.net. Many - maybe most - of the berniecrats (unless they were incumbents) didn't even have campaign websites. For those that didn't, most seemed to be relying on Facebook pages. Where there were campaign fundraising widgets (such as ActBlue and GoFundme), I only saw one that had a few thousand dollars. Most had less than $200, it seems. (Here's one that has nothing, after 11 months: https://www.gofundme.com/Adams-for-Congress ) Many (most?) of the photos on these facebook pages look like selfies - lots of shadows, little professionalism.
With all the $millions$ that Bernie raised, couldn't he have sent enough to cover some campaign websites to the Berniecrats, if he was seriously interested in starting a movement??? An army "marches on its stomach", and similarly, a campaign needs $$. Oh, Bernie, wherefore wert thou?
Eutrice Leid, an interesting host at progressive radio network, has compared Sanders to Jesse Jackson and Dennis Kucinich here, and not in a flattering way. Chris Hedges and Black Agenda Report have similarly assumed the worst regarding Sanders as Democratic Party "sheepdog".
IMO, it's still too early to have such low expectations, though by tomorrow night (after a Sanders national livestream event), it will likely no longer be necessary to speculate, one way or another.
WHICHEVER WAY SANDERS CHOOSES TO GO, HIS BACKERS NEED NOT OBEDIENTLY FOLLOW
As I wrote:
Even if Bernie is on a road to nowhere, many of his followers are ARE looking ahead to meaningful lives as something more effective than being Democratic Party victims and lemmings. I suggest checking out Bernie forums on reddit, as well as Bernie slack channels.

E.g., https://www.reddit.com/r/CaliforniaForSanders invites to a re-direct (via clicking) to https://www.reddit.com/r/political_revolution

Similarly, I'm enrolled in the slack channel newjersey4bernie.slack.com, and the following was posted, yesterday:

russellweiss-irwin 9:41 PM, Jun 14th
@everyone: As we think about how to move forward with the political revolution, a lot of Bernie supporters from around the country are gathering in Chicago this coming weekend at the National People's Summit (more info here: https://www.facebook.com/events/772454342884561/ Coming out of that, we're also now planning a state-wide "New Jersey People's Summit" to be held in New Brunswick on Saturday, July 2nd. Anyone who has been involved with the Bernie campaign is welcome-- and even people who weren't, but want to help build a democratic socialist/ progressive/ truly democratic movement for change in New Jersey! Contact me at russ.weissirwin@gmail.com for more info, and I'll also continue to post about it here on Slack
mountainjew5 9:46 PM, Jun 14th
@everyone If you can't go to Chicago this weekend, join the bernie campaign and many others to discuss what's next in NJ for the revolution https://www.facebook.com/events/1114680941932235/
MY OWN PREFERRED PLAN B FOR THE BERNIE MOVEMENT IS: A BERNIE/JILL STEIN GREEN PARTY TICKET
MY OWN PREFERRED PLAN C FOR THE BERNIE MOVEMENT IS: A TULSI GABBARD/ROSARIO DAWSON* GREEN PARTY TICKET
I RECOMMEND THAT BERNERS TAKE THE INITIATIVE, AND START SOLICITING BERNIE SURROGATES WHO ARE WILLING TO GO GREEN IF BERNIE FAILS TO DO SO, AND WHO THEY CAN RALLY AROUND. AT THE VERY LEAST, THIS WILL GIVE SANDERS ADDITIONAL LEVERAGE VIS-A-VIS THE DEMOCRATS.
I just checked, and https://www.reddit.com/r/NewJerseyForSanders is similarly redirecting to /r/political_revolution.
And that just sparked the thought that the internet makes not just movement formation easier, but also facilitates the process of the movement divorcing the movement's initial inspirer, if he or she is viewed as betraying them. Consider the following image, posted to the #bernieorbust twitter feed, by Sara Cohen
\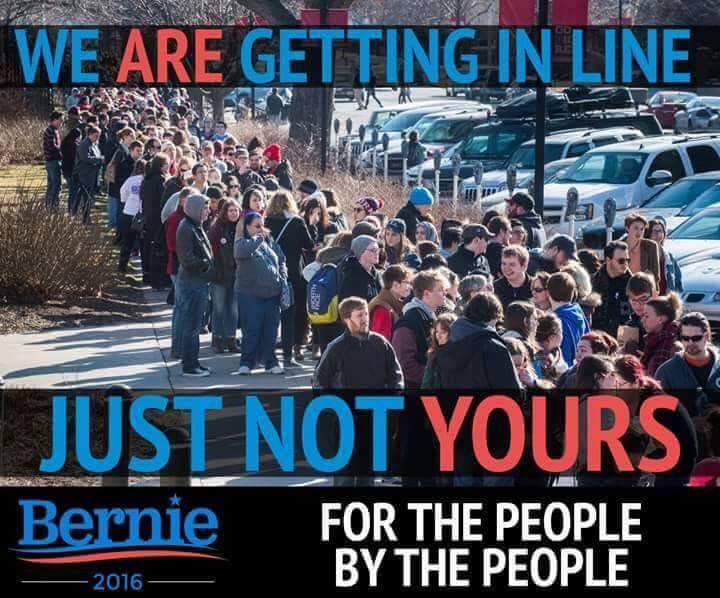 * Rosario Dawson is an actress, but an extremely articulate one. E.g., see: http://www.democracynow.org/2016/4/1/its_a_revolution_actress_rosario_da...