Who is actually choosing the Democratic Presidential Nominee?
Help: Blog
[X]

A blog (from "web blog") is a discussion or informational site consisting of discrete entries ("posts") typically displayed newest first. All Corrente posts are front-paged; there is no up-rate or down-rate process. Corrente posts are almost entirely community moderated. We encourage a clash of ideas, and do not encourage a clash of persons.

If you are the author of this post, see the Edit tab ad Help (and Advanced Help) for detailed documentation.
Submitted by

bringiton

on Tue, 02/26/2008 - 4:11am
While there is plenty being written about who the media or party bigwigs are trying to choose as the nominee, an election process with actual voters is playing out in curious ways. Turns out, Democrats have made a decision; they favor Hillary Clinton by 5:4, more than enough to make her the nominee if it weren't for The Others, the hangers-on that this year may well choose who represents the Democratic Party while themselves rejecting party membership.
Why would any organization allow outsiders to determine its future?
From the beginning, states had structured their own primary election rules, with a mix of caucuses, conventions and balloting. One of the most unstructured is Wisconsin's "open" primary, where any voter can cast a ballot for any party without being asked to declare an affiliation. The potential for mischief from cross-party voting are obvious, and following the 1972 landslide defeat of McGovern by Nixon (520-17, Electoral College) the DNC decided that letting outsiders select their nominee was a mistake.
It took several years of often bitter legal struggle but in 1981 the DNC won a Supreme Court case establishing their right to freedom of association as a fraternal organization under the 1st and 4th Amendments. (DEMOCRATIC PARTY OF U.S. v. WISCONSIN, 450 U.S. 107.) It gave the party the power to refuse to seat delegates unless they were elected in a closed primary.
The DNC's sense of victory was short lived. In 1984, Wisconsin held two presidential primaries, an open one for all parties as before and a separate caucus process solely for selecting Democratic delegates. The results were sharply different. In the open primary, voters went 46% for Gary Hart, 43% for Walter Mondale and 10% for Jesse Jackson. The Democratic Party member-only caucus participants gave Mondale 54%, Hart 29% and Jackson 15%, and that's the way delegates were apportioned.
But changing the primary rules was apparently not a sure solution; Reagan won the election with an Electoral College majority even larger than Nixon's, by 525-13. What Democrats had failed to realize was that their opposition was not playing by the same rules as they were; the Republican Party had transformed into a vehicle for overthrowing the legitimate government of the United States, they no longer were interested in the general welfare of average American citizens, they cared not at all what negative effects their policies would have on the nation, and they would stoop to any level of dishonesty and criminality to achieve their ends. Running a conventional political campaign bound by rules of decency could not compete.
In the confusion and disarray that followed the 1984 election, the DNC reversed their position and decided that opening the primaries would be the best way to attract voters who had fallen for Reagan. By mistaking the basic failure of the Democratic leadership to clearly articulate, convey and defend their message for a simple question of process in the primaries, the DLC chose an easy but incorrect approach that did not address the fundamental flaws and inadequacies. That mistake has been perpetuated, while the neccessary political communications corrections have never occurred.
What did happen is that the states began to move more and more to open primaries of one sort or another, by ballot or by caucus. Steadily since, participation in Democratic primaries has increasingly included voters who are not party members but independent, unaffiliated and Republican. It is this latter group, voters who are not members of the Democratic Party, who are tending heavily for Obama and determining the outcome of this primary.
According to a new ABC News/Washington Post poll released February 21, Hillary Clinton leads among registered Democrats by 11% in Texas and 16% in Ohio. Obama in contrast leads among non-Democrats in Ohio by 14% and in Texas by 13%. These polls have the usual uncertainties, with a margin of error of 4%, uncertain responses of 5% to 8%, and those stating that they are either undecided or still open to changing their votes comprise a quarter of voters in Texas and a third of those in Ohio.
These uncertainties aside, the preference data in Ohio and Texas are almost exactly equivalent to what has been seen in results from primaries already completed. While Obama has been favored by voters who are not actually Democrats, it is Hillary who has won the vote among party members.
Who comprises Hillary Clinton's base? Registered Democrats.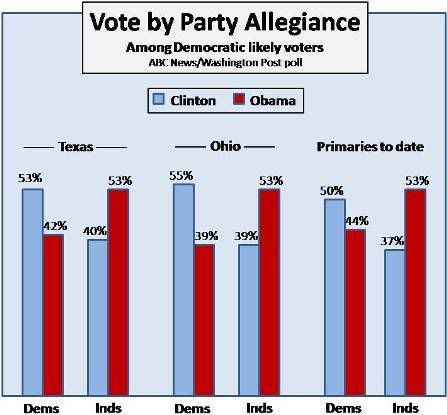 Typically for the MSM, this is the headline and lead from ABC/WaPo for the poll PDF:
Obama Leads on Electability
in Close Texas and Ohio Races

Trailing on electability, Hillary Clinton
is running in a dead heat with Barack
Obama in the Texas Democratic primary
and holds a single-digit lead in Ohio…
No bias here, just the facts, respectable objective professional journalism. Makes a citizen proud.