Dinosaurs Equal Giant Buddhas
Help: Blog
[X]

A blog (from "web blog") is a discussion or informational site consisting of discrete entries ("posts") typically displayed newest first. All Corrente posts are front-paged; there is no up-rate or down-rate process. Corrente posts are almost entirely community moderated. We encourage a clash of ideas, and do not encourage a clash of persons.

If you are the author of this post, see the Edit tab ad Help (and Advanced Help) for detailed documentation.
Submitted by

MJS

on Tue, 05/29/2007 - 3:37pm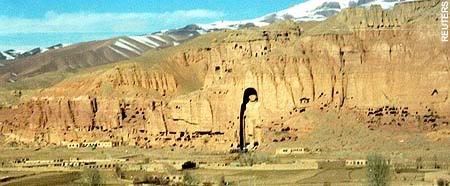 Remember when the Taliban blew up those giant Buddhas in Afghanistan (only because the Neocons hadn't thought of it first)? Those 1,700 year-old sandstone statues were in league with Danish cartoonists (just a theory, okay?) and were just asking to be obliterated so an all-powerful God would know He was really, really worshipped to the max by the faithful...no karma, no foul, right?
Thank the pale God we're not like the Taliban...wait! Along comes this gem from Evolving Thoughts:
Denver Post is reporting that the US Army wants to use a major fossil site for bombing practice. The Picket Wire Canyonlands, in the Commanche National Grasslands, is included in a series of maps the Army has drawn up for increasing its ordinance ranges.
Hmm...Colorado, Air Force, destroying fossils. Wait a minute: the Air Force Academy has a thing for Christianists and the magical spells they say could bias some in favor of those who have a special Roll Call with the One True God.
Let's see here...the Taliban claim they worship the One True God, and they blow up the Buddhas because, well, they're Buddhas...
...and the Air Force, which has over time become a Christianist hotbed, is pretty much okay with destroying what the Denver Post describes as a "secluded valley (that) is home to one of North America's richest dinosaurs finds"--those same heathen fossils that Scientists use to pretend the earth is older than its God-approved 6,000 years (hey, did you hear? 6,000 is the new 4,500!)
So, giant sandstone Buddhas are to Dinosaur fossils as the Taliban is to the United States Air Force. I kid you the fuck not.
+++
Images of giant buddhas from the Telegraph page, as well as from here.
Image of biblesaur from here.
+++