Hey, Advice Goddess? Yeah, Your Statement IS Racist. It's Sexist, Too.
Help: Blog
[X]

A blog (from "web blog") is a discussion or informational site consisting of discrete entries ("posts") typically displayed newest first. All Corrente posts are front-paged; there is no up-rate or down-rate process. Corrente posts are almost entirely community moderated. We encourage a clash of ideas, and do not encourage a clash of persons.

If you are the author of this post, see the Edit tab ad Help (and Advanced Help) for detailed documentation.
Submitted by

Sarah

on Fri, 08/15/2008 - 9:33pm
It's classless and unChristian, as well.
Mostly, though, it's just ugly. And there's enough ugly in the world, Amy Alkon, without your "advice goddess" self adding anything to the total, 'k?
So, bitch, can you just shut the fuck up already, you judgmental hag?
Look at that photo of you on your blog, Amy Alkon.

Why in the name of the seven bald steers you'd show yourself in public looking like *that* is beyond me.
Failed pouf-perm 'hip' 'do, with clearly-fake red curls; a smear of lipstick sneer, narrowed eyes and a black up-collared "hawt ko-tyure" jacket to make you look something other than the narrow, wanna-be-kewl but so-past-prime bitter dead-ender you are, your jealousy is showing.
Tarika Wilson is dead. You can stop hating on her now, Amy. Or are you a coward into the bargain?
Tarika probably didn't look a lot different from this the night she died: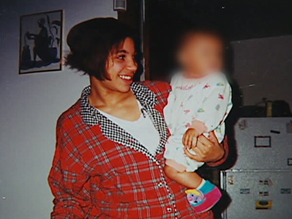 Update: I might've been wrong about the pic on the blog. Amy Alkon in her other internet pic looks worse.
Is it possible to be a more stereotypical incarnation of GOP womanhood?
Oh, btw, the "Advice Goddess" blames her quote on black blogger LaShawn Barber. Layers of projectile racism and sexism slathered on top of pure unadulterated uncaring ugliness, that little cherry-nougat move, Amy love. Bless your heart.
But Alkon's knee-jerk reaction (too many men, too many kids, her own damn fault the 26-year-old Wilson stopped a police bullet in January, and a good thing the cop who shot her dead and shot her infant son in her arms during a SWAT raid on her house, injuring him, got away with it) makes me want to vomit. Here I am in the chorus line, but I've got really good company: Athenae at First Draft, Gavin M. at "Sadly, No," and Feministing are all on this story.
Somebody ought to be praying for you, Amy Alkon. You need it.