Hillary Clinton must be the Democratic nominee; Do The Math
Help: Blog
[X]

A blog (from "web blog") is a discussion or informational site consisting of discrete entries ("posts") typically displayed newest first. All Corrente posts are front-paged; there is no up-rate or down-rate process. Corrente posts are almost entirely community moderated. We encourage a clash of ideas, and do not encourage a clash of persons.

If you are the author of this post, see the Edit tab ad Help (and Advanced Help) for detailed documentation.
Submitted by

bringiton

on Sat, 05/10/2008 - 4:14am
[Readers, the comments section is long and noisy, but interesting. See if, in your judgment, the points the bringiton makes are addressed head-on, or not. And watch for the duellling haikus! --lambert]
[Update below, 11 May 08, bottom of main text - BIO]
Only one thing matters; winning the Presidency in November. Hillary Clinton has proven she is by far the strongest candidate an most likely to achieve that victory. How can she convince the Democratic Party delegates?
Many arguments have been advanced about how to settle the Democratic nomination. Barak Obama argues that winning the majority of pledged delegates should decide the race – but he is wrong. Clinton argues that perhaps the total popular vote should decide the issue – but she is wrong. Earnest people are calling for immediate reinstatement of the primary delegations from Florida and Michigan, saying that is the key – but they are wrong. All that matters is electability.
This nomination will be settled by a few superdelegates, most of whom are allied with Howard Dean, Nancy Pelosi and Harry Reid. Some time between now and the end of June, those three and their allies will make the decision that all of the primary elections and caucuses could not resolve. They will base their conclusion on one factor and one only; which of the two candidates is best equipped to beat John McCain. How should they reach that decision?
Not even the primary delegate totals are an accurate indicator of a candidate's strength in the general election. Caucuses are an inaccurate reflection of voter turnout for ballot elections, and even ballot election results can be distorted and overthrown by subsequent machinations during county and state level conventions. Further deforming the process is the awkward system by which primary delegates are awarded to each state; a very complicated arrangement based on previous voting patterns, the number of sitting Democratic office holders and bonus delegates for holding elections within certain dates that does not reflect the relative worth of each state in the general election. A seemingly democratizing provision, awarding delegates proportionately, does not mimic the winner-take-all* system that is our Electoral College and this is the only metric the Democratic Party must consider – who can command the most votes in the Electoral College?
In 2004, George W. Bush won 286 electoral votes from 31 states while John Kerry took 251 electors from 19 states plus DC. (John Edwards received 1 electoral vote, legal because the electors are free to ignore the will of their state's citizen voters and cast their ballot for whomever they please; just like the delegates to the Democratic Convention. Consider that un-democratic constitutional provision a measure of the "Founder's Intent.") Looking at the voting level state-by-state can provide some instruction regarding the work that needs to be done by the Democratic candidate to win in 2008.
Of the states that went Republican in 2004, Bush was victorious in 24 of them by more than 5% – TX, NC, VA, GA, IN, MO, TN, KY, AL, AZ, LA, SC, OK, MS, AR, KS, UT, WV, NE, ID, MT, SD, ND, and WY. Those states have a total of 213 Electors, and provide a formidable base for John McCain on the way to capturing the 270 needed to win election. While the unpopularity of Bush and Republican economics may hand over some of these states to the Democrats, it would be more prudent to assume that all of them will go Republican again this year and look for support elsewhere.
Of the states that went Democratic, 13 gave Kerry a victory of more than 5% – CA, NY, IL, NJ, WA, MA, MD, CT, ME, RI, DE, VT, HI – as did DC. This aggregation yielded 183 Electors, and assuming that the Democratic candidate can capture them again this year it will still leave a structural Electoral College deficit of 30 votes that will need to be overcome; not a trivial matter against a formidable candidate like John McCain, the coordinated smear machine and Get Out the Vote capabilities of the VRWC, and the MSM echo chamber condemnation of the Democratic candidate sure to come regardless of which candidate is tendered.
The states where Democrats will have to go to win the White House are those where the 2004 voting margin was closer – less than 5% either way. These so-called Swing States – PA, OH, FL, MI, MN, WI, CO, OR, IA, NM, NV, and NH – have 142 Electors; Democrats must make a strong showing to seize the 87/55 advantage they will need. (An electoral College tie would be unfortunate and risky; probably the House and Senate would install the Democrats, but with the Blue Dogs nothing is certain.) What the superdelegates have to ask themselves now, their one single, overriding concern, must be: Which of the two candidates is most likely to carry those Swing States, and by a resounding margin?
How ever would anyone know? Fortunately, the Democratic Party has already asked that question of the people most likely to know the answer – the Democratic voters of those self-same Swing States. There have already been elections or caucuses in PA, OH, MN, WI, CO, IA, NM, NV, and NH. The primary elections held in FL and MI were clearly in Clinton's favor, and the scheduling conflict with Rules & Bylaws over seating delegates has no bearing on evaluating the opinion of the voters; she won both contests handily. One more Swing State, OR, will have it's primary on May 30; Obama is comfortably ahead in the polls and has been for some time, so at this point we could reasonably assume that he will win there.
What does this referendum tell us, and the superdelegates? Table 1 tallies the Electoral votes available in November from the Swing States, assigned to the primary victor in each state on a winner-take-all basis. The judgment of the voters could not be clearer.
By a majority of more than 2 to 1 in Electoral College strength, the Democratic voters of the Swing States prefer Hillary Clinton. A preference of 99 to 43 is not even close; it is definitive. The voters who are most in a position to know, who actually live in these states and know not just their own opinions but those of their friends and neighbors, have made a resounding decision; they want Hillary Clinton as the Democratic presidential nominee. This overwhelming popularity is why a delegation of elected officials from Swing States have written an open letter to the superdelegates, arguing forcefully that Clinton is not only the clear best choice as the Presidential nominee but also will make the greatest contribution to winning the down-ticket races.
"Of the fifteen districts rated "toss up" by the Cook Political Report, Hillary has now won ten. Of the 20 districts we picked up in 2006 that had gone for President Bush just two years before, Hillary has now won 16. She is strong in the places we must win to hold and expand our majority."
These are voices that must not just be listened to, but thoroughly respected and heeded.
But what if these elections are an anomaly? What if there is something about the Swing State voters that is somehow aberrant, that does not reflect the opinions and preferences of the Democratic Party? Where would we look for confirmation? How about the voters in those states that were solidly Democratic in 2004?
Table 2 shows the Electoral vote totals for so-called Blue States, awarded winner-take-all to the primary contest victor. Again, the voters' judgment is abundantly clear.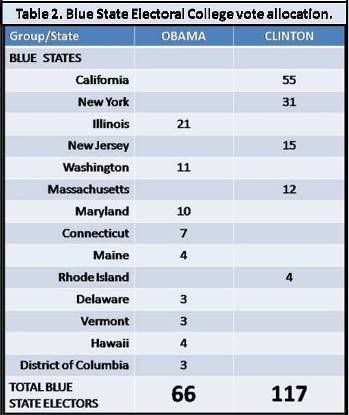 Clinton dominates these states, crushing Obama 117 to 66. Clearly, the voters of solidly Blue States agree with voters in the Swing States, overwhelmingly preferring Clinton as the Democratic nominee. While these states should stay in the Democratic column, it only makes sense to run the candidate who has shown the ability to win them – especially when they are the same candidate who so handily wins the Swing State group.
The nomination decision is no longer disputable. It cannot be that anyone rational would expect the Democratic Party to nominate a candidate whose support is based on primary results from states that are unlikely to deliver Electoral College votes in November. It was of course important that Democratic voters in Republican-dominated states be given an opportunity to participate and voice their opinion, but victory for the Democrats in the general election is not going to be attained through dependence on a nominating scheme reflecting popularity contests attended by a few thousand people in Idaho or Wyoming. The only matter at hand is fielding a candidate who can achieve an Electoral College majority; Red State resident or Blue, everyone must agree that the candidate with the best chance of winning the general election must be made the nominee.
Even though the issue is clearly settled, it is important that the rest of the primaries be conducted for the sake of party unity. It is also important that Barak Obama be afforded every opportunity to make his case to the superdelegates in early June, even though there is no longer any possibility that he can catch Clinton in the only measure that matters. He must not be harassed into withdrawal. He has made a noble effort, especially for someone with such a limited resume, and should be given the opportunity to chose for himself the time and place of his inevitable concession. That is the decent thing to do.
Concede he must, for the good of the Party; persistent divisiveness would be unbecoming and disloyal. He is a young man, and surely will at some point take up his role as a United States Senator in a meaningful way. Perhaps he could, just to see what it's like, hold oversight hearings, or write meaningful legislation; maybe he could ease into the job by showing up for votes (currently third highest missed-votes rate at 40.1%, right behind Sen. Tim Johnson who is still recovering from his stroke.) He might also author another autobiographical meditation; a lessons-learned reflection, "The Mendacity of Trope" or a campaign journal – "Me, Michelle and I." With on-the-job effort and some improvement in his debating skills he may even be able to successfully win over the voters in 2016. His followers this time around should not despair; although such aspirations may now smack of audacity, there is always Hope.
In summary, the voters of the states that the Democratic nominee must win have clearly spoken, and what they have decided must be respected; to do otherwise would be utterly foolish. The superdelegates, as the conscience and repository of wisdom for the Party, must do their duty and ensure that the strongest candidate receives the nomination. Without question, that nominee – and the next President of the United States – must be:
Hillary Rodham Clinton
- - - - - - - - - - - -
[Update: Laambert requested clarification of the rules for the presidential nomination process, to correct false assertions made in comments. An overview is downthread, here.]
- - - - - - - - - - - -
* OK, Maine and Nebraska are nominally proportional, but neither state has ever split their electors and is unlikely to do so in this election.
[Prophylactic: I make no argument here that Obama is unelectable, that he cannot beat John McCain; I believe he can, but with somewhat greater difficulty than Clinton – why take the risk? But this post is not about my opinion; it is solely and only based on the opinions of millions of voters from the states that Democrats most need to win in this election. Since all Obama enthusiasts, like all Clinton devotees, are first of all loyal supporters of the Democratic Party and will respect the unequivocal will of the voters – as they have been calling on Clinton to do for so very long now – there should be no discussion here over what is so clearly irrefutable. Please do the right thing and fall in line submit come along without complaint, for the good of the Party, the Nation and the World. Additionally, please do not clutter up the discussion thread with meaningless repetition of OFB talking points; if you have nothing new to offer, kindly hold your peace.]