Iraq Apologizes For Being Invaded
Help: Blog
[X]

A blog (from "web blog") is a discussion or informational site consisting of discrete entries ("posts") typically displayed newest first. All Corrente posts are front-paged; there is no up-rate or down-rate process. Corrente posts are almost entirely community moderated. We encourage a clash of ideas, and do not encourage a clash of persons.

If you are the author of this post, see the Edit tab ad Help (and Advanced Help) for detailed documentation.
Submitted by

MJS

on Fri, 02/17/2006 - 4:19pm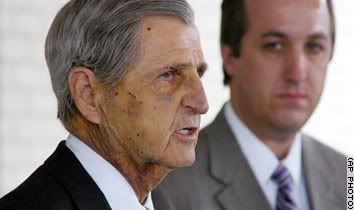 Harry Whittington's Sorry For the Pain He's Caused Dick Cheney
+++
A headline over at CNN reads thusly (as of 4:05 p.m. EST):
Shooting victim apologizes to vice president
I think Harry owes the VP a couple hundred pellets of buckshot or whatever that shit is that they put in guns to shoot birds with. Maybe he can send them to Cheney in a Spray Pattern.
+++