Loud black woman speaks for me, and a lot of other voters, on McCain and Palin
Help: Blog
[X]

A blog (from "web blog") is a discussion or informational site consisting of discrete entries ("posts") typically displayed newest first. All Corrente posts are front-paged; there is no up-rate or down-rate process. Corrente posts are almost entirely community moderated. We encourage a clash of ideas, and do not encourage a clash of persons.

If you are the author of this post, see the Edit tab ad Help (and Advanced Help) for detailed documentation.
Submitted by

bringiton

on Thu, 09/25/2008 - 12:32am
Ladies and Gentleman, please give a warm welcome to
Wanda Sykes.
Where's that Democratic base among women? Gallup says it is right where it has been for quite a while.
Poll results from the first of August until last week encompassing an aggregate of more than 23,000 respondents, Obama's strength among Hispanic, black and Asian women is overwhelming. These are core Democrats, those who did not wander off after Republican pipe dreams and fall for their lies, and they are sticking with the Democrats again in this election.
But what about the claimed Hockey Mom Bubble, the supposed rush of PUMAs and women in general to embrace the newly woman-friendly Republican ticket lead by the long-time dedicated feminist John McCain and his exciting inspiring sidekick, the staunch advocate of women's pay equality and reproductive freedom, Sarah Palin? Does that explain the lead McCain has among white women?
Well no, actually; in this table covering four surveys capturing the opinions of more than 47,000 voters from the middle of August through last week, it is clear that little has been altered. McCain's support among white women is unchanged over that period and while Obama's has fluctuated he is now six points higher among all white women than he was five weeks ago.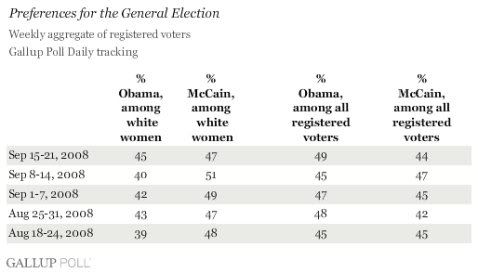 The deficit Obama had among non-Hispanic white women has been there for many weeks, and while his numbers flattened for a while he is now in a statistical tie for this demographic. McCain, on the other hand, has stayed constant among all white women combined; there was no bounce with women from Palin, and what ever PUMA voters have shifted to McCain they are in such small numbers they do not appear to have had a measurable effect.
From a temporal association standpoint, Palin may have actually benefited Obama. Certainly the trend post-convention, after voters had a chance to take a good look at both tickets in their entirety, is away from McCain and toward Obama.
Xenophon's fondness for xeno-demographic agitation not withstanding, Obama's problem is not with white women but with white men where he trails McCain 56% to 35%. This is the grouping Obama needs to crack, and it is the reason Joe Biden is his running mate. Somehow, Obama needs to find validation with white male voters and sexism being as pervasive in this society as it is, for many of these men (not all, but many) only another white male will be able to persuade them that Obama is acceptable.
Over all, these numbers are very close to the final tallies for Gore v. Bush and Kerry v. Bush; As a whole, dedicated Democratic and Republican voters have settled in along partisan lines and Independents are starting to break as they have in the past several elections. If Obama can expand his appeal to generally conservative, conventionally religious Independent white males, 16% of whom say they are still persuadable, he will be able to extend his current overall lead and achieve a comfortable victory. If not, then this election will be another real nail-biter.