Mustrat love
Help: Blog
[X]

A blog (from "web blog") is a discussion or informational site consisting of discrete entries ("posts") typically displayed newest first. All Corrente posts are front-paged; there is no up-rate or down-rate process. Corrente posts are almost entirely community moderated. We encourage a clash of ideas, and do not encourage a clash of persons.

If you are the author of this post, see the Edit tab ad Help (and Advanced Help) for detailed documentation.
Submitted by

ohio

on Thu, 10/21/2010 - 12:36pm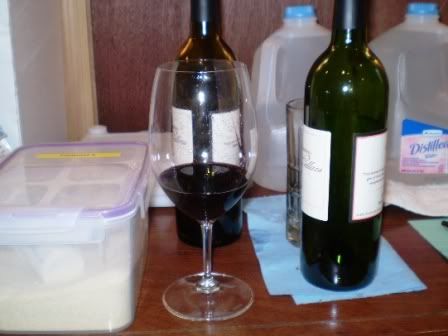 My pal Dave is a fucking genius with wine. Since we've slowed down on housebuilding tasks this fall, I volunteered to be a winemaking helper bee this season for him.
There's a thriving winemaking industry in Woodinville and a significant number of smaller wineries are in a strip mall/industrial park. Winetasters show up in little vans and trip around the parking lot from tasting room to tasting room. They have nice little tasting rooms in the industrial park, but it's still an industrial park.
Shorter: it ain't no chateau. I like the setting myself,but I see stuff like winemaking as an industrial activity and find the picturesque in machinery, process, result, and so on. But I'm weird. Regardless of the setting, some of the wine is good. Some is very good. All of it is expensive.
Most vinifera grapes won't set on the western side of the Cascades, so they truck the grapes in from California or Eastern Washington. They do the crushing, fermenting, blending, bottling, etc., over here.
Dave makes excellent wine, most of which comes from grapes grown in Eastern Washington, and this year he's fermenting syrah and cabernet sauvignon. The process is exactly what you think: crush the grapes, let the crushed fruit and juice ferment until you get the balance of sugars and alcohol you want, stop the fermentation. But the challenges are in the details. How long should the crushed fruit sit on the juice? What kind of yeast? What's a good balance? And this is where experience, skill, and talent come into play.
But the first stage deals with crushed fruit and is essentially, yeast wrangling. Yeasts are amazing and complex organisms, closer to animals than plants, and it is their waste products that make bread rise and juice ferment. Dave's goal is to create an enironment where the yeasts will thrive while simultaneously extracting the flavors and color of the fruit. It's a nice balancing act that, combined with the mercy at which he finds himself regarding weather, unforeseen mechanical challenges, and so on, is one reason why winemakers drink so much.
But this is all very theoretical. Fact is that winemaking, like any industrial activity, requires physical labor. There's a lot of shoveling, pulling, toting, and cleaning. I already helped with some shoveling, but now it was time to punch down the must.
Must is the crushed fruit, stems, seeds, and whatever else that's solid inside the fermenting vat. The wine yeast expels so much CO2 that the must rises to the top and forms a cap. (Interestingly, this cap helps keep the juice warm and yeast perform better in a specific temperature range.) The must needs to be punched down to release more sugars, color, and flavor and to keep the yeast happy.
There is nothing romantic about punching must. You have a steel rod with a couple of handles and a flat end and you punch that sucker down to the bottom of the vat, and then rake. Wineries with larger fermenters don't even bother punching as it's too difficult physically---they use a system by which they pump the juice from the bottom of the vat and pour it over the top of the cap. But this is a small operation and so it's done the old-fashioned way.
The process starts by removing the lid and the fitted bedsheet along the top of the vat. The bed sheets are there to stop fruit flies. Anyway, steam rises out of the vat, full of enough CO2 that in a larger vat, you have to be careful you don't breathe in too much, pass out, fall in, and drown. The steam smells like grapes and yeast. Just like heaven.
Dave checks the temperature using a non-contact thermometer. Ambient temperature is about 60 degrees and the cap is close to 70.
Dave pumps in O2 using a long steel rod poked through the cap to the bottom of the vat. Yeast needs oxygen and this is one way to get it down to the bottom. One of the other reasons you punch yeast is to agitate and add O2 to the entire vat. Stabbing the cap yields a massive amount of purple foam.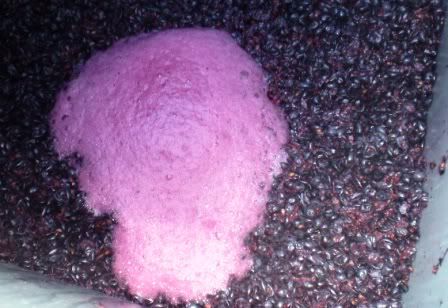 The foam's temperature is over 80 degrees. Dave has heating blankets around and floating aquarium heaters in the vat to help keep the must within a specified range, but most of this heat energy is from the yeast. I get first hand knowledge of just how warm it is when I punch. It's all upper body and while Dave is freakishly tall, I am not. I stand on a little step stool to get some leverage. Punch down, rake it up. Punch, rake, punch, rake. I get it done pretty quick.
Next we check the brix (Bx). Brix is a measurement of the amount of sugar in a liquid, which is good to know as yeast converts this sugar converts to alcohol during fermentation. Dave needs to know approximately how much sugar is in the juice so he can figure out when the yeast has finished doing it's job, how quickly the yeast is doing it's job, if there's something wrong, and so on. He's balancing the action of the east with other requirements for his wine and finding the Bx is a way to learn that.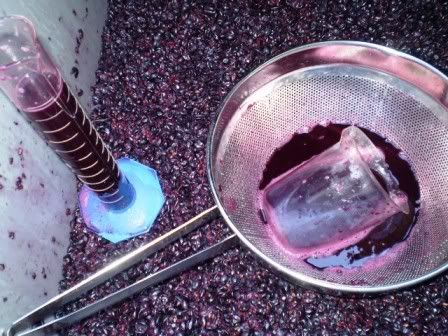 Out comes the hydrometer. I didn't get pictures of this because I was actually doing the measuring, but essentially, we got some of the juice (and it was bubbling like shaken soda pop under the cap) and tested a sample. A hydrometer is a bulbed glass rod you slip into a sample and then spin to clear any foam or bubbles. Dave said to get the reading quickly and don't fuss because this is an approximation.
We got the number and he did a quick calculation. He then helps the yeast along by adding DAP, a product that delivers yeast-available nitrogen, and Fermaid, which is a yeast nutrient. I tasted the Fermaid and it was not so good. But I am not yeast.
He had a little extra time so he let me try my hand at finding total acidity (TA) of a 2004 syrah and a 2007 cabernet sauvignon I helped him cap and move a few weeks ago. He has all this lab equipment in his cellar and it's pretty cool. And I love this kind of crap---standing around talking about making stuff can be fun, but after a certain point, it's time to do. You can't talk a bottle of wine into existence anymore than you can swear drywall into flinging itself on the ceiling.
And Dave really knows what he's doing. The proof is in the bottle.